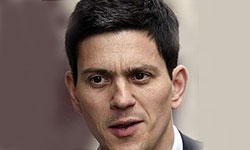 TEHRAN (FNA)- British Foreign Secretary David Miliband, in a meeting with Iranian envoy to the Munich security conference Ali Larijani, said his government's stance on the anti-Iran terrorist group, the Mojahedin-e Khalq Organization (MKO), has not changed.
Miliband went to the Iranian parliament speaker's residence in Munich Saturday night on the sidelines of the 45th security conference and told Larijani that despite the EU decision to drop the terrorist MKO from its blacklist, the British government's stand on the group has not changed.
The MKO is behind a slew of assassinations and bombings inside Iran, a number of EU parliamentarians in their recent letter slammed a British court decision to remove the MKO from the British terror list. The EU officials also added that the group has no public support within Iran because of their role in helping Saddam Hussein in the Iraqi imposed war on Iran (1980-1988).
Criticizing the EU for removing MKO from terrorist blacklist, the Iranian parliament speaker said, "The EU should not damage its position in eyes of Iran's nation."
Earlier on Saturday, in a meeting with French Foreign Minister Bernard Kouchner on the sidelines of the 45th Munich Security Conference, Ali Larijani criticized the EU move on the MKO and reiterated, "This action of the Europeans is a clear instance of their double-standard behavior that would lead to a downgraded position of Europe."
Also during the meeting between Larijani and Miliband, the British foreign secretary voiced determination to keep on dialogue with Tehran over its nuclear program under new international situation.
"Under the new international situation we are resolute to start dialogue with Iran over different common interests of parties, including the nuclear issue," he stated.
The British government, the EU and the new US administration respect Iran's rich culture and old civilization and are willing to continue the trend of talks with Tehran, Miliband asserted.
Miliband also called for creating appropriate mechanisms for joint cooperation between the two countries over Afghanistan issue and other common interests.
The Iranian parliament speaker, for his part, called for different parties involved in Iran's nuclear issue to take realistic approaches.
"In case there is necessary political will based on a constructive approach in different parties, Iran is ready for dialogue regarding different issues, including its nuclear program," Larijani said.
The European Union can have a positive and realistic role in different international developments, including the Middle East issues, and also in bilateral cooperation with Iran, he added.