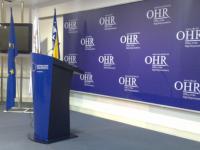 European Union officials on Monday started discussing the appointment of a new peace overseer for Bosnia in the dual post of the Office of the High Representative, OHR and Special EU Representative, to replace outgoing envoy Miroslav Lajcak.
Lajcak, announced his departure two weeks ago to take up the post of Slovak Foreign Minister. He left for Bratislava on Monday after attending the three-day Security Conference in Munich but the OHR said Lajcak will be closely monitoring developments in Bosnia from a distance, while the daily business will be run by his principle deputy, US diplomat Raffi Gregorian.
The deadline for EU member states to put in applications for their candidates expired on Friday night. The candidates' list should have been finalized over the weekend, but the selection and official confirmation could last for weeks, until a consensus has been reached among all the powers involved in Bosnia's peace process after the 1992-95 war, a western diplomat told the Balkan Insight on Monday.
According to different diplomatic sources and media, the short list includes at least two Italians, a Slovene, a Greek, as well as one British and one Austrian diplomat. France may have also been interested to put up its candidate and many European countries would favor that option, but until Monday there was no confirmation that France has actually proposed its candidate.
Probably the most famous candidate was reportedly put up by the Great Britain, which has proposed its former ambassador to the UN, Sir Emyr Parry Jones. The best-known candidates in Bosnia are former Slovenian Foreign Minister Dimitrij Rupel, former Austrian ambassador to Bosnia, Valentin Inszko and former chief economist in the EU mission in Bosnia, Italian Renzo Daviddi. Italians have also proposed their current ambassador to Kosovo, Michael Louis Giffoni, while Greece has nominated its ambassador to the US, Alexandros Mallias.
EU officials hope that the best candidate could be selected and his name made public by the next meeting of EU Foreign Ministers on February 23, yet the official inauguration could wait until the next meeting of the Peace Implementation Council, PIC, at the end of March. PIC is an international body made of all countries engaged in Bosnia, which was tasked by the UN Security Council to supervise Bosnia's peace-implementation and the work of the OHR.
Western officials and local and international analysts warn that despite the name and gravitas of the candidate, the international – and especially the EU – presence in Bosnia remains in serious difficulties.
The OHR's broad governing powers are effectively dead because there is no common agreement among the EU capitals as to how to use them, and the military forces available are not strong enough to guarantee their implementation. Furthermore, European powers remain divided over what to do with Bosnia and whether to keep the OHR active for a bit longer, or to transfer some of its competencies to a new and reinforced EU Special Representative's Office.
Yet the key questions is whether and how this office would be able to use OHR's governing powers, an option that is strongly opposed by Bosnian Serbs and Serbia's historic ally, Russia.
This confusion among EU countries and institutions have coincided with – if not enabled – the worst and still worsening political crisis which Bosnia and Herzegovina has been facing for the past three years.