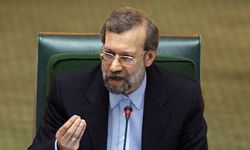 TEHRAN (FNA)- Iranian Parliament Speaker Ali Larijani, in a meeting with his Spanish counterpart Monday morning, welcomed expansion of economic and trade exchanges between the two countries.
"This capacity has not been used so much up to now", Larijani added while visiting the Spanish Congress during his trip to the country.
He stressed that the two countries should strengthen consultations on regional issues, Afghanistan in particular.
Larijani also appreciated Spain's positions on Gaza, and exchanged view on the issue with his counterpart.
Criticizing the United States' unilateral policies in the region, he expressed hope that the new US administration would revise the country's policies on the Middle East region that has so far led to the killing and wounding of hundreds of thousands of people.
Also during the meeting, Larijani submitted an invitation to the Spanish congress speaker to visit Iran.
Head of the Spanish congress foreign policy commission is scheduled to pay a visit to Iran within 2 weeks.
Accompanied by a delegation of lawmakers and deputies of oil and foreign ministries, Larijani arrived on Sunday in Madrid for talks with Spanish officials following his trip to Germany where he participated in the 45th Munich Security Conference.