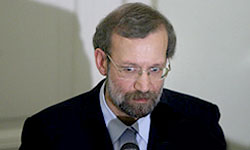 TEHRAN (FNA)- Iranian Parliament Speaker Ali Larijani Stressed in Spain that Iran is not a country to be threatened easily.
Speaking to a group of Iranian expatriates living in Spain on Sunday, Larijani also called the 1979 Islamic Revolution of Iran as one of the exceptional developments in the country's contemporary history, the Islamic republic news agency reported.
"The correct decisions made by the Iranian leaders during the past 30 years helped Iranian people reach a state of self-reliance which is a highly significant achievement of the Islamic Revolution," Larijani said.
Accompanied by a delegation of lawmakers and deputies of oil and foreign ministries, Larijani arrived in Madrid for talks with Spanish officials following his earlier participation in the 45th Munich Security Conference.
He was welcomed at Madrid's Barjas International Airport by secretary general of the Spanish Congress of Deputies Manuel Alba.
While in Spain, the Iranian Speaker is to discuss major bilateral, regional and international issues in separate meetings with Prime Minister Luis Rodriguez Zapatro and Foreign Minister Miguel Angel Moratinos as well as his Spanish counterpart Jose Bono.
Earlier on Saturday, in a meeting with a group of Iranians living in Munich, the speaker pointed out that the Iranian nation is famous for its great civilization.
"The West should understand that the Iranian people are not a second grade nation," Larijani added in Munich.