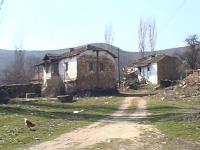 The central Macedonian village of Rilevo near the town of Prilep has cheered the arrival of the first baby born in the village in 21 years, local media reported on Sunday.
Two-month old Teodora brought joy in the home of Robert and Anila, and sparked hope of better days in this village of old people and bachelors, local A1 TV said.
Once a prosperous village filled with life, Rilevo now has around 70 inhabitants, mostly old people and about ten bachelors who stayed unmarried because they could not find a wife willing to live in the village under harsh economic conditions, A1 said. The closest school is 25 kilometres away.
After years of trying to persuade a girl from Macedonia to join him, Robert eventually married Anila from neighboring Albania.
"Life here is hard, but we would like to stay. We live on three hectares of land planting tobacco. Teodora gives us reason", Robert says.