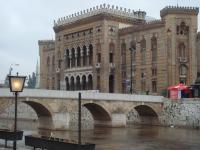 Worsening economic conditions, high prices and low salaries are pushing almost half of Bosnia and Herzegovina on the verge of famine, consumers' associations warn.
"The income of about 40 percent of the population is such that it is insufficient to cover even the costs of food," Mesud Lakota, secretary general of the Sarajevo-based association for the protection of consumers' interests was quoted as saying in Sarajevo daily Dnevni Avaz.
Lakota's comments were based on a simple analysis estimating the basic budget of a a four-member family at some 800 Euros, while the average salary in the country ranges between 350 and 400 Euros. 
Statistics show that most families in the country have only one family member in full employment, while there are many cases where families have no officially employed members and depend on occasional or seasonal jobs and social assistance.
Consumers associations in both Bosnian entities – the Serb-dominated Republika Srpska and the Bosniak (Bosnian Muslim)-Croat Federation – warn that a major part of the problem is being caused by producers and service providers.
Prices of all food items and basic services in the country have drastically increased in mid 2008, when the prices of fuel and food products on the global markets sky-rocketed. Although the prices of crude oil, wheat and rice slumped towards the end of last year due to the fast-approaching recession, prices in Bosnia remained almost on the same level.
Economists say that in the past few years, large remittances from abroad, easy-to-get commercial credits and the gray economy have been subsidizing citizens' low incomes and boosting the overall living standard in the country. Yet all these elements are now being seriously affected by the global economic and financial crisis and Bosnia's economic weaknesses are becoming more obvious each day.
Consumers associations and experts say that local producers, traders and service providers use the weak inspection mechanisms in the country to continue stockpiling extra profits.
"It is worrisome that the state is not doing anything to protect consumers while trading (companies') lobbies are widely using free market principles," Lakota concluded.