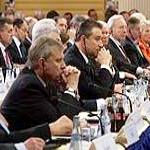 Brussels, February 12  – Macedonia's commitment and determination to remain loyal to its objective and pledge for full-fledged integration to NATO is the main message that was conveyed by country's Foreign and Defense Ministers – Antonio Milososki and Zoran Konjanovski – to Alliance's Secretary General Jaap de Hoop Scheffer at their meeting Thursday in Brussels.
– We had a great opportunity in a friendly atmosphere among allies to talk about the progress made thus far, concrete plans for the future, how we can boost the progress and our own contribution to the Alliance and finally how to establish stronger partnership in the region and beyond, stated Milososki after the meeting.
Secretary General Scheffer gladly accepted the invitation from Macedonia's ministers to visit the country before he leaves office.
– It will additionally demonstrate the closeness of the relations between Macedonia and NATO, FM Milososki said.