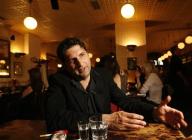 BELGRADE  – When Nina Ivancev, 38, left Serbia for Australia in 1993, she was convinced she would never return to what was then a pariah state embroiled in Balkan wars. Now she is back, and finds it more stable than richer places.
Ivancev was one of millions who left Yugoslavia in the 1990s while it was breaking apart in Europe's worst fighting since World War Two.
Many have returned to the successor states in recent years, encouraged by their growing stability and lured by family, the chance to help rebuild their country and the hope of getting rich. Some brought valuable skills and experience.
Ivancev, an Atlas Group vice-president running its investment bank in Montenegro, had an investment banking career in Australia and Japan and, after separating from her partner, resettled in 2007 in Belgrade where her parents could help with her three-year-old son.
"It worked out pretty well for me," said Ivancev. "I am doing a very similar job in a much more stable environment than London or Tokyo.
"When I left I was probably reaching the peak of my career there and some people thought I was mad to leave. A year after I left, the same people called and asked me if there were any jobs going."
More people are still leaving Serbia, the most populous former Yugoslav state, than returning. Although numbers remain vague, officials say the gap has shrunk and at a time of global recession, more are considering coming home.
"We have seen an increase in inquiries about returning in recent months because of the world economic crisis," said Djordjo Prstojevic, Serbia's assistant diaspora minister.
However, an official said last week the government was hoping for 2009 GDP growth of between 2 and 3 percent, down from the official forecast of 3.5 percent, and some economists see growth just above zero.
ONCE-IN-A-LIFETIME OPPORTUNITY
About 4 million Serbs live abroad, and officials do not know how many have returned. Of 2 million people who left Bosnia during the 1992-95 war, about 1 million have come back.
Serbian Deputy Prime Minister Bozidar Djelic moved to Paris as a boy in 1973 and estimates he is one of between 10,000 and 15,000 professionals to return since the downfall of Slobodan Milosevic in 2000.
"This is a once-in-a-lifetime opportunity, after a 20th century that was not so good … to bring Serbia to a 21st century that can produce a much better life for people," he said.
Serbia's ex-deputy central bank governor Nikola Zivanovic, who lived abroad from 1991 to 2001, said returning expatriates had made a big difference by importing Western business standards.
He cited his introduction of a new central registry of securities, vital for a modern stock market: "I applied some principles that I had learned abroad."
Serb-Canadian Milovan Perisic, 58, left for economic reasons in 1973 and now plans to open a factory making vinyl windows, steel doors and other materials. As is common in the Balkans, he is putting together a 20-million Canadian dollar cash investment without bank financing.
"The timing is perfect," he said, praising Serbia's relatively low wages and costs. "That will definitely help the business survive the economic crisis."
Some of those returning are building on foundations laid during the troubled years. Mladen Grujic, 42, left in 1990 and worked in the Netherlands, Milan and then Prague from where he says he smuggled medical supplies into Serbia under sanctions.
In 2003, inspired by drug stores he saw in the West, he opened his own chain Lilly, helped by a 500,000 euro loan from an Austrian-owned bank.
Grujic is now a member of parliament, owns 91 drug stores and 14 bakeries and is investing 100,000 euros each in seven more Lilly stores. "We are such a backwater of the financial world that we are still doing fine," he said of the global crisis.
CALLING ALL PROFESSIONALS
Miroljub Labus, a Yugoslav deputy prime minister after Milosevic's fall, brought back prominent Serbians such as Deputy Prime Minister Djelic and central bank governor Radovan Jelasic, who studied in the United States and worked in Germany in the 1990s.
"It is absolutely important because this is a crisis of the scarcity of capital. It will be over in one or two years but the scarcity of human resources cannot be over in one or two years," Labus said of returning expatriates. "That's the problem of Serbia — not having enough experienced professionals."
Alex Kostic, 62, quit Yugoslavia in 1968 as an anti-communist, and worked in the United States in construction, as a clothing importer and Hollywood producer.
He returned in 2002 and invested several million euros cash, without financing, in a majority share in a Bosnian vineyard.
"I thought it be good for the kids to see the changes in the country and learn the language, and I was happy to go back to see the country going through the changes after communism."
Blerim Aliu, 37, fled the Yugoslav army in 1991 at the start of the wars, unwilling to kill. At first he worked illegally in Switzerland in construction, then bought fruit and vegetables from Italy to sell in his native Kosovo.
Six months after Kosovo declared its independence from Serbia, Aliu moved to the capital, Pristina. Using his own and family money and a 150,000 euro loan, he has just opened a 1.3 million euro sports center and swimming pool.
"My dream since I was young was to one day come home to my parents and my country and to build something," he said.
It has not always been easy. Djelic said coming back to Serbia brought an end to his marriage to his French wife. Others say it took a while to adjust.
"I had not lived in this country for 16 years," said Ivancev of the Atlas Group. "The slowness to a certain degree frustrated me, the mindset on how the business is run frustrated me."