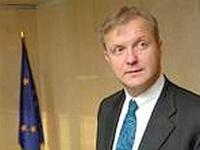 Belgrade, 12 Feb.  – European Union enlargement commissioner Ollie Rehn on Thursday urged Belgrade to arrest and hand over the two remaining fugitive suspects charged by the United Nations' Hague-based war crimes tribunal for the former Yugoslavia.
The arrest and handover for trial at the Hague of former Bosnian Serb wartime commander Ratko Mladic and wartime leader of rebel Serbs in Croatia Goran Hadzic remain among key pre-conditions for Serbia's entry into the EU, Rehn reiterated after talks with president Boris Tadic, prime minister Mirko Cvetkovic and other officials in Belgrade.
The EU has frozen the Stabilisation and Association Agreement (SAA) it signed last year with Serbia on closer ties until Mladic and Hadzic are handed over to the Hague tribunal.
Belgrade claims it has no knowledge where Mladic and Hadzic may be hiding.
"It is of utmost importance for Serbia that the process of integration be as short as possible. We are interested in the final goal and will therefore consider this realistic analysis by the commissioner Rehn," said Tadic.
Rehn and Tadic opened a new office of the European Commission in Belgrade, which will employ over 100 people.
Rehn said it was the third biggest EU mission in the world, which symbolised the EU's determination to include Serbia in the bloc.
The Serbian government has promised to submit its EU application by the end of this year and ease visa restrictions on Serbs wanting to travel to EU countries.
Rehn said this was a "feasible goal if Belgrade authorities continued an effective struggle against organized crime and corruption".
Serbia has also decided to start applying trade liberalisation by allowing EU goods to enter Serbia customs-free.