KABUL (AFP) – US President Barack Obama has accepted Kabul's request to be part of a major review of US strategy in the "war on terror" in Afghanistan, President Hamid Karzai and a US envoy said Sunday.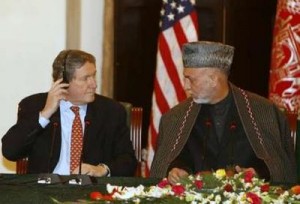 Karzai said he asked Obama by letter for Afghanistan to have a role in the review, which is under way amid concerns about worsening security in this country seven years after a US-led invasion ousted the Taliban regime.
US envoy Richard Holbrooke brought the message to Karzai on Saturday that Obama had accepted, the Afghan leader told a joint press conference.
A delegation from Afghanistan chaired by Foreign Minister Rangeen Dadfar Spanta would travel to Washington "and will be working jointly with the US government in the review of the strategy in the war on terrorism," he said.
Holbrooke arrived late Thursday and met with a range of Afghan officials and politicians, international military commanders and diplomats before holding talks with Karzai late Saturday.
He has held similar wide-ranging meetings in Pakistan and is due to continue his tour of the region in India.