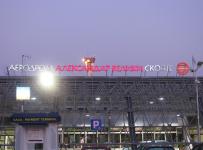 Two planes had to make an emergency landing in Macedonia's Skopje airport on Friday the 13th, leading aiport authorities to publicly reassure passengers over the ominous date.
An airport spokesperson told Dnevnik daily these problems do occur from time to time and had nothing to do with the date that many connect with bad luck.
The first incident took place shortly after noon with a Malev plane headed for Budapest, the head of the Macedonia's Civil Air Traffic Agency, Zoran Krstevski confirmed to Dnevnik. Ten minutes after take off, the plane's emergency lights indicated something is wrong and the pilot turned back and safely landed in Skopje. A replacement plane was sent to pick up the passengers.
The second incident regarded an Austrian Airlines plane that had problems retracting the front landing gear. This too returned safely, with ground crews on alert.