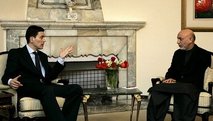 ASHINGTON (AFP) – President Barack Obama approved the deployment of 17,000 more US troops to Afghanistan, a surge in numbers promptly welcomed by the Kabul government Wednesday as it battles a Taliban insurgency.
Stressing that "the situation in Afghanistan and Pakistan demands urgent attention and swift action," President Obama ordered the deployments in response to a standing request by the US commander in Afghanistan, General David McKiernan, who had asked for 30,000 more troops.
"This increase is necessary to stabilize a deteriorating situation in Afghanistan, which has not received the strategic attention, direction and resources it urgently requires," Obama said in a statement Tuesday.
The president said he had approved a request by Defense Secretary Robert Gates to deploy a Marine Expeditionary Brigade in the spring, and an Army Stryker Brigade and support forces later this summer.
The White House said the troops would be deployed to Afghanistan ahead of Afghan elections scheduled for August 20, significantly building up the 38,000-strong US force already on the ground battling a growing insurgency.
A senior administration official told AFP the deployments were unlikely to come before an ongoing review of US strategy in Afghanistan and Pakistan was completed ahead of a NATO summit in April.
"The thinking is that this was necessary at this time because of the expected increase of fighting in the spring and the upcoming elections," the official said on condition of anonymity.
As the security situation in Iraq has improved, the US has increasingly shifted its focus to Afghanistan and reduced the number of its troops in Iraq.
The US-backed government in has come under intense pressure as the insurgency led by Taliban and Al-Qadea Islamic militants has gained strength and spread from the country's east and south into parts of the west and areas around the capital.
The Afghan government welcomed Obama's decision. "It's a positive move," Afghan defence ministry spokesman Mohammad Is'haq Payman told AFP.
"But we have our own conditions. We want these troops to be deployed in areas where they could play a positive role in suppressing terrorists," he said.
Prominent lawmaker Shukria Barakzai said the reinforcements should be sent to the border with Pakistan to stop militant infiltrations.
But security depends on more than just military efforts, she said, citing the need to improve development in impoverished Afghanistan and diplomatic efforts to persuade the to lay down their arms.
"Military force alone is not enough," Barakzai said. "If these troops come without coordinating their efforts with development and diplomacy, the situation would not change."
Last year saw the deadliest Taliban violence, including suicide attacks, assassinations of officials and ambushes on Afghan and international troops.
"The Taliban is resurgent in Afghanistan, and Al-Qaeda supports the insurgency and threatens America from its safe haven along the Pakistani border," Obama warned.
The Pentagon said Gates had ordered the deployment of two additional combat units totaling more than 12,000 troops, with Pentagon spokesman Bryan Whitman indicating they would be deployed in the violence-plagued south.
Some 5,000 support troops would receive deployment orders at a later date.
Under the orders, some 8,000 Marines will deploy to Afghanistan in late spring 2009, and about 4,000 US Army soldiers would deploy in mid-summer, the Pentagon said.
Obama indicated that the units had initially been earmarked for Iraq, saying the drawdown of US forces there "allows us the flexibility to increase our presence in Afghanistan."
Obama ordered the comprehensive review amid growing alarm about mounting Islamic extremism in the region seven years after the United States launched its "war on terror" and ousted Afghanistan's Taliban regime.
Senator John McCain, Obama's rival for the US presidency in last year's election, welcomed the troop move but expressed hope that it was "just the first step in a new comprehensive approach to Afghanistan."
"A major change in course is long overdue," he said.
US intelligence has warned that endemic corruption in Afghanistan and the government's inability to deliver services and protect the population has eroded its legitimacy.
Washington has grappled with rising tensions with Kabul over civilian casualties in military operations against insurgents.
On Monday a US-led in western Afghanistan killed up to 15 militants, the US military said, but on Wednesday Afghan police said the strike killed six women and two children in addition to eight men.