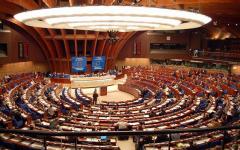 Both Brussels and Strasbourg will watch closely Macedonia's March 22 presidential and local election for signs of democratic maturity after the country's last general election in June 2008 was marred by violence and fraud.
The European Commission via its office in Skopje will monitor both the pre-election campaign and the actual election day, Krizstina Nagy, spokeswoman for EU enlargement Commissioner Olli Rehn, said Monday in Brussels.
"The preparations for forthcoming elections and the process itself should be conducted in line with international standards, namely to be free and democratic. This is essential for normal development of EU-Macedonia relations", Nagy said.
The Parliamentary Assembly of the Council of Europe will also send a mission. A special delegation of the assembly will arrive in the country this week, PACE said in a written statement.
They are to meet all the presidential candidates, government officials and local NGOs watching the election.
The importance of the elections for the country's EU future was stressed before from many EU top officials after the June poll was marred with violence in ethnic Albanian populated areas that killed one person.
The Organization for Security and Cooperation in Europe will send about 300 monitors on Election Day and the local NGOs will delegate several thousand.
If the election goes well, the country could hope that the EU will scrap visas and give a date for the start of EU accession talks this fall. Macedonia received the status of candidate country in 2005