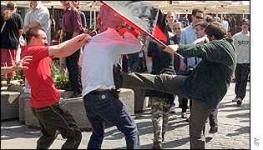 The refusal of managers at Belgrade's Sava Centar congress hall to allow a venue booking by a Serbian gay rights group has sparked a debate on the marginalisation of sexual minorities in the country, with Serbia's Human Rights Ministry saying the Sava Center management should resign or be dismissed for discrimination.
Sava Centar Director Dragan Vucicevic told private broadcaster B92 he would not allow the Gay-Straight Alliance news conference scheduled for Thursday to go ahead, and had cancelled it "for security reasons". 
"We don't allow such gatherings in the Sava Centar," he said. "I have nothing against them meeting anywhere else, but not in the Sava Centar."
The decision was made known on Tuesday, outraging gay rights activists who were at the congress hall for a showing of "Milk", a film on the life of assasinated gay rights activist Harvey Milk, as part of the Belgrade Film Festival.
"Some 50 people who got really angry in front of the Sava Centre where we were holding a mini 'Gay Pride' wanted simply to go inside and shortly interrupt the film," said Boris Milicevic of the Alliance.
The activists stood in front of the screen chanting slogans like "Death to Homophobia".
The State Secretary at the Human Rights Ministry, Marko Karadzic, told B92 it was worrying that some people put their personal opinion above the law and the government's policy.
"I was surprised that anyone could explain such discriminatory stances in that way – that the problem is neither the place or a room for the conference, but the organiser himself and the topic of the news conference," he said. "The most moral move for them would be to resign, and if not, they have to be dismissed."
The only attempt to organise a Pride parade in Belgrade in 2001 ended in gay rights activists being beaten by nationalists. There was more tolerance of homosexuality in the Yugoslav federation in the 1980s, before the rise of nationalism made people more conservative and created an obsession with a narrowly-defined national identity.