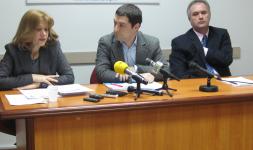 Macedonia has problems organizing transparent public procurements tenders and is ending up with many of them getting scrapped , shows the latest research by the local Centre for Civil Communications.
Having monitored public procurements and tenders in the last year , the Centre noted that only 60 percent of the state issued tenders are successful in choosing the best bidder.
Some 23 percent of tenders are prolonged beyond their initially planed deadlines, mainly due to the poor preparation or bureaucratic errors, and 17 percent are totally scrapped — what the Centre said was a high percentage.
Poor organization leads to too many bidders submitting complaints to the State Appeals Commision, that additionally prolongs the procedures wasting precious time.
"The state commissions often disregard the law and do not explain their decisions for picking or rejecting certain bids", Vanja Mihajlova from the Centre told local media on Thursday. A number of tenders corresponding to a third of the total value of the procurements in the first half of 2008 were awarded without the tender having been previously announced in the media, the CCC notes.