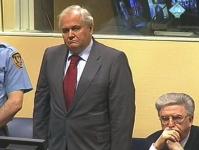 Former Serbian president Milan Milutinovic, acquited of war crimes relating to the 1998-99 Kosovo conflict, will return to Belgrade on Friday after more than four years spent in detention in The Hague.
On Thursday the United Nations war crimes court found five senior Serb officials guilty of orchestrating the murder, torture and deportation of ethnic Albanians in Kosovo, with Milutinovic, largely seen as a figurehead, the only one acquitted.
The ruling, which said Serbia waged a campaign of ethnic cleansing in Kosovo, was the first verdict on atrocities committed by Serb forces in the 1998-99 crackdown on Albanian separatist guerrillas that drew NATO into its first humanitarian war.
Rasim Ljajic, Serbia's point man for cooperation with the Hague tribunal, told reporters that Milutinovic would be returning to Belgrade at 7.50 p.m. oon a regular JAT Airways flight from Amsterdam. It was not yet known if hardline nationalists who rejoiced at his acquittal would organise something for his homecoming.
Commenting on the five guilty verdicts, Ljajic said they would lead to even stronger anti-Hague sentiments in Serbia, where most people already think the tribunal is biased against them.
Serbian lawyer Toma Fila said the release of Milutinovic was just a ploy by the tribunal to show the trial was unbiased.
"The court did not take into consideration any evidence. We brought a huge number of witnesses who said differently than the sentence concluded, even some prosecution's witnesses."
The sense of such verdict was to justify the NATO bombing of Serbia, he said, and to show that Kosovo Albanians were right in pushing for their independence, which they declared formally last February. Serbia does not recognise the secession and has launched a suit at the International Court of Justice requesting its opinion on the legality of Kosovo's declaration of independence.
Professor Tibor Varadi, Serbia's legal advisor in the ICJ, told Politika daily he was surprised by the long prison sentences and said the verdict would be certainly used as an argument by advocates of Kosovo's independence in the ICJ.
However, he said, "the link betweens the events in 1999 and the declaration on independence nine years later is pretty weak."
Another lawyer, Aleksandar Gajic, said the biggest problem was the fact that the verdict spoke about associating to commit a criminal act with the aim of changing the ethnic balance in Kosovo so that Serbia would keep power.
"That is the stance that should worry us and will certainly be one of the significant arguments of those who are in favour of the independence," he told Politika. "It is very strange that the length of the sentences depended on links of defendants with (late Yugoslav President) Slobodan Milosevic, although Milosevic himself has never been convicted."