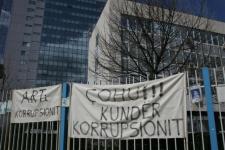 International human rights group Front Line accused Kosovo's public telecoms company of harrassing civil society group COHU!, and called for a prompt investigation into the matter.
The managing director of Kosovo's Post and Telecommunications Kosovo, PTK, Shyqyri Haxhaj, accused the wife of COHU! director Avni Zogjani, a PTK employee, of releasing company information to the civil society organization, and later told her that she would be transferred to a provincial warehouse from her current position within the financial department.
The government has said that the PTK, Kosovo's most profitable public enterprise, would be privatized this year. COHU! has been reporting that the dealing and accounts of the firm have been kept secret, calling Prime Minister Thaci's rule "semi-authoritarian".  
COHU!, a non-governmental organization striving to promote democracy, anti-corruption and dignity in Kosovo, assured media that the documents they released on February 18, which revealed a secret deal made by the government and PTK, were found outside Kosovo's borders.
"A worker of PTK would not obtain them [documents]. They have nothing to do with the administration of PTK," said Zogjani in a press conference on Thursday.
Front Line asked on the international community to pressure Kosovo's President, Fatmir Sejdiu, to investigate the harassment and "bring those responsible to justice in accordance with international standards".