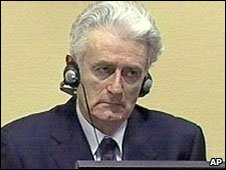 Former Bosnian Serb leader Radovan Karadzic is set to appear in court at The Hague to face a new version of his indictment for alleged war crimes.
Prosecutors at the United Nations tribunal have re-drafted the charges and Mr Karadzic now faces two counts of genocide instead of one.
He also faces nine charges of war crimes and crimes against humanity.
Mr Karadzic was arrested in the Serbian capital, Belgrade, last year after more than a decade in hiding. 
The main allegations against Mr Karadzic arise from his political leadership of the Bosnian Serbs in the conflicts of the 1990s that followed the break up of Yugoslavia.
Srebenica massacre
Specifically, he is indicted for alleged involvement in the siege of Sarajevo and the massacre in Srebrenica, the worst atrocity in Europe since World War II, in which several thousand Bosniak (Bosnian Muslim) men and boys were killed.
Amending the charges has offered Mr Karadzic another opportunity to enter a plea before the UN's International Criminal Tribunal for the former Yugoslavia (ICTY).
When he first appeared at The Hague after his capture in July 2008, Mr Karadzic refused to enter a plea, saying he would wait until prosecutors had finalised all the charges they wanted to bring.
This refusal resulted in an automatic not-guilty plea being entered on his behalf.
Genocide is regarded as the worst crime in international law but is very difficult to prove because of the requirement to show intent, correspondents say.
The Hague tribunal has so far convicted only one person on genocide-related charges – a Bosnian Serb commander, Radovan Krstic, who was found guilty in 2004.