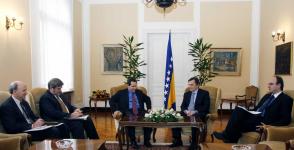 The situation in Bosnia and Herzegovina is "not good," thanks to continued radical rhetoric among some local leaders and the country's lack of progress towards EU membership, a senior US diplomat was quoted as saying on Tuesday.
Stuart Jones, the deputy US Assistant Secretary in charge of the Balkans, on Monday met members of Bosnia's thre-man presidency and senior government officials. During the meetings, he expressed the US administration's "concern" with the ongoing political deadlock which continues rising tensions and blocking the country's path to the EU membership.
Aside from a few brief written statements, the meetings were closed for public. Yet some media noted that because of growing tensions among some local leaders, Jones was not able to hold a joint meeting, but had to talk to the three members of the presidency and the state premier separately.
Jones' visit came at the time when Bosnia is perceived to be going through the most difficult patch since the end of the war, and local and international officials and analysts have been calling for an urgent reengagement of the US and EU administrations in the Balkans.
But instead of stronger and more coordinated political presence, US and EU leaders appear to be locked in a struggle over the appointment of Bosnia's new High Representative.
According to sources, the US has so far been objecting to the appointment of the EU's candidate, former Austrian ambassador to Bosnia Valentin Inzsco, considering him to be too weak for the tough post.
A statement issued from the cabinet of the Croat member of the presidency, Zeljko Komsic, after his meeting with Stuart Jones, cited Jones as saying that the US administration is "engaged in consultations" with the EU and that the issue should be resolved during this week.