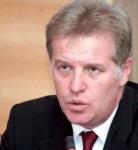 Albania Deputy Prime Minister, Genc Pollo, was fined by a Tirana court on Tuesday for slander over comments made toward the publisher of a local newspaper.
Pollo was fined 300,000 lek (€2307) over comments he made during a press conference while serving as Albania's Minister of Education in 2007.
In the press conference Pollo accused the publisher of the daily Standard, Arjan Cukaj, of publishing false articles against him and his ministry in order to obtain a license to open a private university. 
Cukaj was also fined 100,000 lek (€769) for his response to Pollo's comments. Pollo had accused the publisher that he had sought to pressure him through unfounded accusations in critical articles, in order to obtain the license for the college.
Pollo also claimed that the university which Cukaj sought to register, based in Cyprus, was actually a high school. However, the court rejected his claims as unfounded.