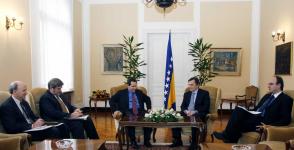 Milorad Dodik, the Prime Minister of the Serb-dominated Bosnian entity of Republika Srpska, has seemingly softened his radical rhetoric and temporarily abandoned plans for his entity's independence, local media reported on Wednesday.
The apparent shift in Dodik's attitude came after his meeting on Tuesday with Stuart Jones, the deputy US Assistant Secretary in charge of the Balkans. As a part of his three-day visit to the country, Jones has held separate meetings with all main Bosnian political leaders. 
"Consensus is required for any solution, be it a construction or dissolution of a country," Dodik told media after his meeting with Jones. He added that any changes to Bosnia's constitution should be done through regular parliamentary procedure.
"We have to talk about this calmly and nobody in Republika Srpska is crazy to jump into some adventure," he concluded.
Dodik's comments were in stark contrast with his statements from only a few days ago. In various media appearances following the recent escalation of political tensions in the country, Dodik openly admitted that he and his government were considering several options, including the withdrawal from all joint institutions, and even a referendum for self-determination and proclamation of eventual independence.
Dodik has also suggested that Bosnia and Herzegovina should follow the example of Czechoslovakia and divide into two new countries without any violence. These and other more radical statements from Dodik have increased political tensions and led to a deepening political deadlock in the country over the past three years.
Only few hours after his meeting with Jones, Dodik spoke at a regional economic forum in the Serbian ski resort of Kopaonik and said that Republika Srpska and Serbia should establish a joint economic space.
In brief statements given to media after the meetings on Monday and Tuesday, Jones said that the situation in Bosnia and Herzegovina is "not good", thanks to continued radical rhetoric among some local leaders and the country's lack of progress towards EU membership.
Yet at the end of his visit he said he was not leaving the country "disappointed".
Jones also denied reports in some local media that the US administration has been blocking the appointment of the EU's candidate, former Austrian ambassador to Bosnia Valentin Inzsco, as Bosnia's new High Representative. He said that the US is taking this decision "very seriously" and because of that are still engaged in "careful consultations" with the EU.