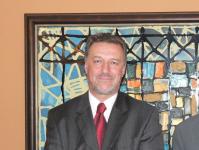 Albania's Minister of Culture Ylli Pango was fired on Wednesday, after a video showing him allegedly asking sexual favours from young women applying for a job in his ministry was broadcast on TV.
The video and audio broadcast on the investigative program Fisk Fare on Top Channel TV shows Pango setting private meetings with two job applicants. One of these meetings was set in his private villa in Tirana, in which the sacked minister asks a girl to strip her clothes off.
In the recording Pango is overhead repeatedly asking the girl to take her shirt off and come out in a bikini so that he can assess whether she is the right person for the job.
Thirty minutes after the broadcast Prime Minister Sali Berisha issued a statement sacking Pango as culture minister.
"The Prime Minister Berisha has told the minister of culture, youth and sports that he is dismissed since the episode that appeared in the media is unacceptable for the morality and standards of his government," said a statement from the premier's office.
Pango was not reachable for a comment; however in a statement to Berisha he claimed that the video is a "a fabrication by the media".
If the claims prove true, according to Albania's penal code, Pango risks up to three years in prison for sexual harassment at work..