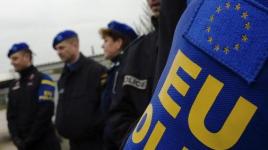 The first trial to be held in Kosovo's northern town of Mitrovica after the courts in the town shut down in February 2008, has begun.
The EU's Rule of Law Mission in Kosovo, EULEX, opened the trial against two Kosovo Serbs charged with breaking into the home of an elderly couple in Gnjezane village, assaulting the couple and taking money and other valuables, media report.
The trial was supposed to start on Monday but was postponed due to a protest by Serb judicial workers opposed to the work of the mission which they saw as supporting Kosovo's independence from Serbia. There were no protests when the trial started this time.
Yesterday a court under EULEX's auspices found an Albanian man guilty of war crimes and sentenced him to 17 years in prison.