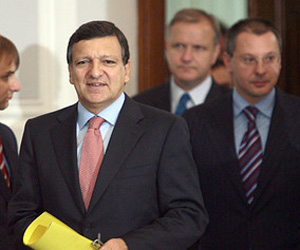 The President of the European Commission, Jose Manuel Barroso, has suggested that Bulgaria could receive EUR 500 M from preliminary payments through European Programs to help the country through the financial crisis, Bulgarian National Radio reported late Thursday.
Barroso's announcement came after a meeting with Bulgarian PM Sergey Stanishev who is currently visiting Brussels and also met with the European Commissioner on Energy Andris Piebalgs and EU Economic and Financial Affairs Commissioner Joaquin Almunia.
Barroso added that Bulgaria has stood up quite firmly to the current financial crisis that has hit all the EU countries and according to him this is due to Bulgaria's considerable economic growth in last few years and the country's ability to sustain a healthy fiscal status.
During his talk with Piebalgs, Stanishev said that the compensation on the part of the EU for the decommissioning of blocks 1-4 of the Bulgarian nuclear power station at Kozloduy should continue to be supplied after 2009.
He pointed to the enormous losses the country has been subjected to during the gas crisis, roughly EUR 250 M, as a reason for his request.
Bulgaria, unlike many other European countries, remains economically stable facing the global turmoil. This was announced by the European Commissioner on Economic and Monetary Affairs, Joaquin Almunia, during his meeting with Bulgaria's Prime Minister Sergey Stanishev in Brussels, the press office of the government announced.
Joaquin Almunia highly assessed the economic and financial policy of the government, while Stanishev presented Bulgaria's long-term measures for maintaining what he called stability and predictability, including the Currency Board regime, keeping budget surplus, improving the business climate.
Bulgaria's prime minister stressed that the Bulgarian economy is open and will most probably be hit by the crisis and voiced support for Brussels' efforts to map out joint measures for dealing with it.