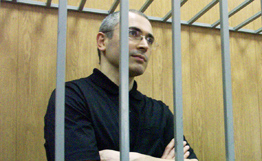 MOSCOW, March 6  – Defense lawyers for former Yukos chief Mikhail Khodorkovsky and his business partner have requested the Moscow court dismiss new charges against their clients, a lawyer said on Friday.
Khodorkovsky, 45, and Lebedev, 42, are already serving eight-year sentences for tax evasion and theft charges. The new charges against them include the embezzlement of more than 890 billion rubles ($25 billion at the current rate of exchange) and laundering of 487.4 billion rubles and $7.5 billion. 
Vadim Klyuvgant, a lawyer for Khodorkovsky, said the defense had made the request to the Khamovnichesky court of Moscow over "a lack of evidence of a crime."
Khodorkovsky and Lebedev, who were recently transferred from their confinement in East Siberia to Moscow, are now facing claims totaling about $50 billion, which their lawyers have described as "ridiculous."
Once Russia's largest oil producer, Yukos collapsed after charges of tax evasion led to the company being broken up and sold off to meet debts. The bulk of the company's assets were bought up by state-run oil company Rosneft and it was declared bankrupt in 2006.