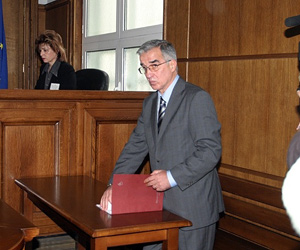 The Sofia Appellate Court postponed Friday the case against former Interior Minister Rumen Petkov for Aril 10.
Petkov is charged with leaking a State secret. The magistrates requested that the State Agency for National Security (DANS) provided more evidence in order to clarify the case. They declared that the Court that tried the case on first instance, the Sofia City Court, failed to provide a clear answer about Petkov's guilt or innocence. 
The trial was held behind closed doors due to the presence of classified materials in the case's documentation. Petkov did not appear for the proceedings.
According to the Appellate Prosecutor, Yuliana Petkova, the case was clear and there was undisputable proof that Petkov has leaked a State secret by revealing the identity of the DANS undercover agent, Aleksei Petrov.
On November 20 2008, the Sofia City Court acquitted Petkov of all charges and only imposed a BGN 2,750 fine on him.
The scandal about the uncovered identity of the DANS secret agent, Aleksei Petrov, started when the former head of the Main Directorate for Combating Organized Crime, General Vanyo Tanov, announced that Petkov had revealed Petrov's name in a hearing.
Petrov's name was announced in connection with his presence as an undercover agent during the scandalous meeting between the then Interior Minister Petkov and the notorious businessmen from the southwest Bulgarian town of Dupnitsa, the Galev Brothers.
This scandal led to allegations that Petkov had connections with organized crime groups, and he eventually resigned as Interior Minister, returning to his seat in Parliament as a MP from the ruling Bulgarian Socialist Party.