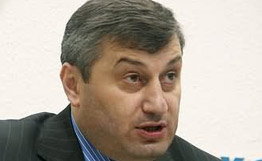 MOSCOW, March 6 – Georgia's armed forces are building fortified structures near the border with South Ossetia, as well as new firing positions, the South Ossetian president said on Friday.
"As of now, there are 35 Georgian armed checkpoints in the zone of European observers' responsibility. Overall, there are about 2,500 armed people on the Georgian side in the conflict zone," Eduard Kokoity said. 
He said Georgia's actions "are a serious violation of the Medvedev-Sarkozy agreement."
"All responsibility for the breakdown in agreements lies with Georgia and European observers, who are making no attempt to pressure the Georgian side," he said.
The Medvedev-Sarkozy ceasefire plan ended a brief military conflict between Russia and Georgia last August and calls for the non-use of force in resolution of conflicts in the region.
Moscow recognized Abkhazia and South Ossetia after a five-day war last August with Georgia, which attacked the latter in an attempt to bring it back under the control of Tbilisi. Many residents in both Abkhazia and South Ossetia have been Russian passport holders for several years.
Russia's move was condemned by the United States and Europe. Nicaragua has so far been the only other country to follow Russia in recognizing South Ossetia and Abkhazia.