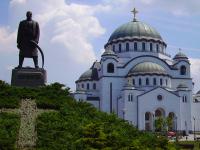 Serbia's interior minister Ivica Dacic said that a controversial draft law against discrimination – whose adoption is a requirement for the country to get onto the European Union's so-called "Schengen white list" – will be adopted by parliament by the end of April.
He told a B92 TV talk show last night that the law will be passed, along with all other laws that parliament needs to approve in order for Serbs to become eligible for visa free travel to the EU.  
The government last week pulled the anti-discrimination law from parliamentary procedure, because the largest churches in Serbia objected to certain elements of it. Dacic said the Church should not involve itself in politics, but that it has the right to give its opinion. He denied that any officials of his Socialist Party of Serbia made a deal with the Church to vote against the law.
Earlier today, the president of the Serbian parliament, Slavica Djukic Dejanovic said that the Socialist Party will support the law. Civil society experts say the law proposed law is in harmony with international conventions signed by Serbia and has received a positive assessment from the Council of Europe's Venice Commission, the council's advisory body on constitutional matters.
The last minute decision by the government to pull the bill from parliamentary procedure has sparked a furor, amid calls stating that separation of state and church is a basic principle of democracy: "Religious freedom means equal treatment of those who are religious and those who are not. We're fighting for freedom of choice, which means plurality of life styles, cultural models, equality of sexual choices, so we can be what we want instead of what a church, nation, army or party wants us to be," said Stasa Zajovic, representative of "Women in Black", a non governmental organisation.
Sasa Gajin, coordinator of the "Coalition Against Discrimination" and one of the authors of anti-discrimination law demanded to know whose decision it was in government to withdraw the law. "It is parliament who makes decision for our country, not government," he said.