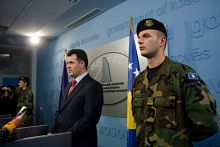 The Minister of Kosovo Security Force, Fehmi Mujota, met last week with the NATO Chief of Staff, General Karl-Heinz Lather, accompanied by Major-General Fugie and expressed his gratitude toward NATO and KFOR for their continuous support and help provided to the Kosovo people and its institutions.
In the meeting Minister Mujota spoke about the process of the establishment of Kosovo army as a professional, comprehensive force, serving for the benefit of all Kosovo people, the peace and security in the country. He mentioned the efforts made by the Republic of Kosovo institutions to provide the best treatment possible to the former KPC members who failed to qualify for the new force.
During the meeting it was assessed that the independence of Kosovo did increase the security and stability of the region and that the conditions are created for cooperation with the international insitutions towards the integration of Kosovo in the Euro-Atlantic structures.
"Kosovo insitutions are dedicated to this objective which guarantees peace and longterm prosperity," said Mujota.
Both Mujota and General Lather gave special attention to the KSF fund established by NATO and Minister Mujota used this opportunity to thank all the countries that have contributed and that will contribute to this fund.
General Lather also met with the commander of Kosovo army, General Lieutenant Sylejman Selimin, with whom he discussed about the process of selection and the beginning of the army functioning. There were also discussion about training processes and the beginning of the recruitment from the civil society as well as about other plans and objectives for the building of professional Kosovo force capacities-as stated on a press release issued by the Information office of the Ministry for KSF.