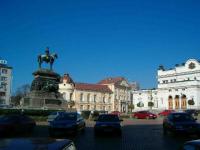 The son of a right-wing politician has been arrested on suspicions of killing a 21 year old woman in the Black Sea town of Varna.
Georgi Tsvetanov is the only suspect for the murder of Radostina Evtimova, whose mutilated body was found with numerous stab wounds at a flat in Varna on March 07.
The son of the leader of the local unit of the right-wing Union of Democratic Forces, has vehemently denied the allegations.
His father Tsanko Tsvetanov said: "Something terrible has happened and the criminals should be brought to justice."