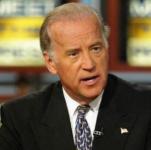 US Vice President Joseph Biden during a meeting at the NATO headquarters in Brussels called on the Europeans to maintain their commitments to Kosovo and take their share of responsibility towards the newly independent state seriously.
"There is still a lot of work to be done in Kosovo because our commitments haven't ended. It is essential that the European Union and European community takes is responsibilities seriously and fulfill the promises to Kosovo that we have make together," said Biden. 
Biden said his country's contribution to NATO's mission in Kosovo will not change because of the need to deploy more troops to Afghanistan. "I don't believe there will be troops pulling out of Kosovo… I want to make it clear that we will not trade our priorities between Kosovo and that what should be done in Afghanistan," said Biden.
This was the second time that the new US administration has reminded Europeans of their obligations and commitments towards the region. Last week US Secretary of State Hilary Clinton said there is still a lot of work do be done in the Balkans.