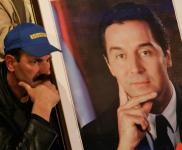 Voting kicked off slowly in the early hours of Montenegro's snap parliamentary elections, the CDT polling agency says as Montenegrins vote for a government to take them towards the EU and counter effects of the global crisis.
Some 7 per cent of roughly 500,000 registered voters had cast their ballots two hours into the election. At the same point in the last parliamentary poll, in September 2006, 11 per cent had voted.
Surveys predicted a big victory for Prime Minister Milo Djukanovic's coalition, in the repeat of his triumph in 2006.
Djukanovic's Democratic Party of Socialists, DPS, allied with the small Social Democratic Party, said it called the polls 18 months early to secure a clear four-year mandate for reforms.
Following the 2006 election, political parties agreed to hold the next vote by the end of 2009, but the government moved it forward, saying the path to EU membership required a fully functioning government and parliament. Opposition parties and analysts say the coalition also wanted to win re-election before the effects of the global recession worsen.
About 489,000 registered voters will be able to choose 81 lawmakers from among 16 political parties and coalitions. Polling stations opened at 0800 CEST (0600 GMT) and close at 2100 CEST (1900 GMT) and first unofficial results are expected shortly after voting ends. Balloting will be monitored by 1,200 local and international observers.
Opinion polls put the Coalition For a European Montenegro led by Prime Minister Milo Djukanovic in the lead with more than 50 percent of votes, enough to rule alone.
Djukanovic has dominated political life in the Adriatic nation of 670,000 people for two decades and says he wants to win quick EU membership after applying in December.
At a rally on Friday, Djukanovic pledged his coalition "will combat the crisis, safeguard the core of our economy, back prospective companies and secure pensions."
Montenegro's economy, especially the tourism sector, has grown robustly since 2006 when it ended its loose union with Serbia, but in common with much of the Balkans it faces a possible recession this year.
Many voters see Djukanovic's commitment to EU membership as the best way to protect the country from economic crisis.