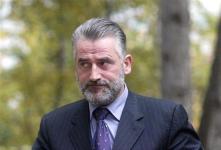 The right-of-centre Macedonian Government is waging an "undeclared war against the Albanian option", the head of the ethnic Albanian opposition said.
Menduh Thaci, the leader of the opposition Democratic Party of Albanians, DPA, made the remarks at a session of DPA's branch in the town of Debar, local Makfax news agency reported Friday. 
He accused the VMRO-DPMNE-led Government of "totally blocking the provisions of the 2001Ohrid peace deal" and "bringing uncertainty about Macedonia's EU and NATO future".
The Ohrid deal aimed to pave the way for a multiethnic society by introducing greater rights for ethnic-Albanians, who make up one quarter of the population. It ended the six month armed insurgency in 2001.
Urging for a greater role of his community in policy-making, Thaci strongly attacked VMRO-DPMNE's ethnic-Albanian coalition partners, the Democratic Union for Integration, DUI, for ignoring Albanian priorities: A swift EU and NATO of the country.
Last year, DUI gave carte blanch to VMRO-DPMNE to find a solution for the name row with Greece. This could unlock Macedonia's NATO bid.
But after one year, and with no solution on the horizon, the ethnic Albanians have started to show signs of impatience. Opinion polls show they would much rather give up the country's formal name in exchange for NATO and EU membership, as opposed to the Macedonian majority.
DUI head Ali Ahmeti also urged its coalition partner to find a solution quickly. Although still strong, observers say that the DUI is already feeling the pressure from its supporters after the March election.
DPA also did not perform well at the last election. It secured its lowest level of support for years.