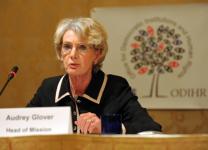 After strongly contesting the appointment of the head of the international election monitoring team, the Albanian Central Electoral Commission on Thursday approved her appointment, along with a further 39 long-term observers.
The centre-right government of Prime Minister Sali Berisha had earlier objected to Ambassador Audrey Glover's appointment as head of the Office for Democratic Institutions and Human Rights, ODIHR, mission on the grounds that previously, when she served as head of the ODIHR monitoring mission in the 1996 elections, she criticised Berisha's Democratic Party.
The ODIHR said that the 1996 general election was marred by election fraud on the part of supporters of the Democratic Party, the police and the secret service, at the time tightly controlled by Berisha, who was president.
The Albanian premier has always denied the allegations.
The government requests and refusal to meet with the ODIHR monitoring group during the past week provoked a stern reaction from the EU, which backed Glover and reminded Tirana of its commitment to hold free elections.
"The right of ODIHR to choose free from interference the best candidate to have as its election observation mission is a fundamental principle," said Kristzina Nagy, spokesperson for EU Enlargement Commissioner Olli Rehn.
"Audrey Glover has been appointed as ODIHR observation mission to Albania, and this is a decision that belongs solely to ODIHR and we fully support the principle of non-interference regarding these nominations," Nagy added
The June 28 parliamentary elections are seen as key in Albania's EU accession process. In the decades since the fall of communism in 1991, the electoral practices of governments from both the left and the right, have been below standard, with voter fraud rampant.