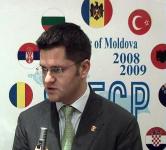 Serbian Foreign Minister Vuk Jeremic has petitioned foreign ministers from South-East European Cooperation Process, SEECP, states for patience over the issue of Kosovo's independence ahead of an international court ruling on the issue.
At a meeting of SEECP foreign ministers in Chisinau, Moldova, Jeremic also reaffirmed Serbia's commitment to regional cooperation, EU integration and implementing international laws.
Calling for restraint from partner states regarding Kosovo, he asked SEECP members to refrain from making any decision on recognizing Kosovo's independence before the International Court of Justice, ICJ, ruled on the matter.
Jeremic also solicited the membership to block Kosovo from joining the SEECP, the Council for Regional Cooperation and other international bodies.
"These initiatives can only upset the balance on the ground, which certainly isn't in anyone's interests," he said.
Jeremic stressed that Serbia's main political goal was EU membership, underlining that Serbia would also keep working toward a place on the EU's Schengen "white list".
"In short, the right of our citizens to travel without visas will bring Serbia closer to Europe," Jeremic continued.
The official 12th annucal SEECP summit will open later today in Chisinau. Serbian President Boris Tadic is also scheduled to attend.
The SEECP was founded in 1996 on the initiative of Bulgaria, with Albania, Bosnia-Herzegovina, Bulgaria, Greece, Macedonia, Romania, Turkey and Serbia, while Croatia, Montenegro and Moldova joining later on.