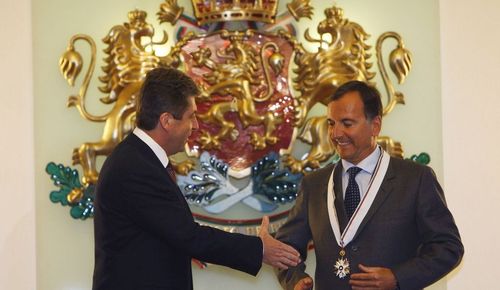 Italian foreign minister Franco Frattini met Bulgaria's Prime Minister Sergei Stanishev and Deputy Prime Minister and Foreign Minister, Ivailo Kalfin in Sofia on June 8.
During the meeting, Frattini assured his hosts that Bulgaria is still viewed as an excellent place for investment despite the global economic crunch.
"Moreover, Bulgaria is a successful example of integration within the EU and Nato," he said, as quoted by the Bulgarian National Radio, the BNR.
"Italian business enterprises believe that further investments should be made. Interest in your country remains high, despite the global economic crisis and you should avail yourselves of the opportunities," Frattini said.
Stanishev said that Bulgaria is coping well with the economic crisis, and that the country's banking and financial establishments are sound.
He also used the opportunity to address the issue of the decommissioned Kozloduy nuclear power plant, maintaining that "the country ought to receive additional compensation for the premature decommission of its nuclear reactors.
By presenting the same arguments again before the EC, Stanishev expects that Bulgaria's European partners will show deserved solidarity and equal treatment "as displayed towards other countries who are facing similar arduous circumstances," he said.
Frattini said that Bulgaria ought to take on a more commanding role in relation to EU and Nato integration in the western Balkan region "as countries there could use the Bulgarian example" he said, as quoted by an official government media statement.
Stanishev was quick to respond that regardless of Bulgaria's accession, the country is still undergoing major changes and that integration is still far from complete. Numerous reforms are still underway and others are yet to be initiated, he said.
"Some implemented measures have already reaped positive results," he said.
Earlier on June 8, Bulgaria and Italy signed a declaration for friendship and for enhancing consultations and co-operation between the two foreign ministries. Subsequently, Frattini was awarded the Stara Planina Order First Degree by Bulgarian President Georgi Purvanov.