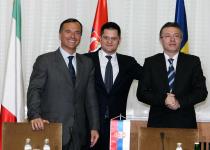 Italian Foreign Minister Franco Frattini and Romanian Foreign Minister Cristian Diaconescu told Serbian officials in Belgrade yesterday that they supported Serbia's European integration and visa liberalisation for Serbian citizens traveling to the EU.
The Italian and Romanian foreign ministers issued a joint statement recommending that the interim agreement between Serbia and the EU be put into effect immediately, calling for the Stabilization and Association Agreement, SAA, to be implemented by the end of June. 
The pair also recommended that the EU work on guaranteeing Serbia's candidature in the club soon.
Frattini told reporters that it was in the region's best interests to back Serbia's EU membership.
"Our messages are very clear. Firstly, the process of Serbia's integration into European institutions should be accelerated. Secondly, the liberalization of the visa regime should be realized by the end of the year, and thirdly, we want the region of the Western Balkans to be fully integrated in European institutions," he said.
Diaconescu echoed these sentiments, saying it was integral for Serbia to join the European club as it shared the same energy and enthusiasm for cooperation as the other 27 members states.
Diaconescu also underlined that Serbia's cooperation in the area of regional security.
Serbian Foreign Minister Vuk Jeremic responded graciously to the show of support, thanking his counterparts.
"We also discussed matters we disagree on, that is, the issue of Kosovo's proclamation of independence. We agreed that this issue must not stop us on the road to EU membership," Jeremic said.
Visa liberalisation for Serbia will be discussed at an EU conference in Brussels on June 15