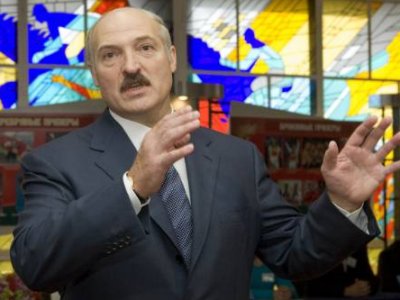 The rift between Russia and Belarus deepened on Sunday when Belarussian President Alexander Lukashenko snubbed a security summit in Moscow in protest at Russia's "trade war" against his nation.
Ties between the former Soviet republics have been strained since 2007. Minsk is angry at rising prices for Russian gas and Moscow by Lukashenko's growing overtures to the West.
Lukashenko was due at a summit of the Collective Security Treaty Organisation (CSTO), which groups Russia, Belarus, Armenia, Kazakhstan, Uzbekistan, Tajikistan and Kyrgyzstan.
But he pulled out after Moscow banned one of Belarus's key exports, dairy products, on health grounds. Moscow often uses trade bans to put political pressure on neighbouring states.
Belarus's Foreign Ministry said Minsk could not join efforts to consolidate military and political security while "Belarus's economic security was being openly undermined".
Stressing Belarus's heavy reliance on Russia, Russian President Dmitry Medvedev said: "Belarus consumes significant Russian financial resources" and 93 percent of its meat and milk exports are bound for Russia.
At a news briefing after the summit, Medvedev rapped Lukashenko for failing to act "as a true partner".
"In such a situation, it would not be a bad idea to … make a phone call," he said. "Alexander Grigoryevich Lukashenko did not call me and did not say that he did not plan to come."
At the summit, Russia, Armenia, Kazakhstan, Kyrgyzstan and Tajikistan signed an agreement to create a mobile, compact rapid reaction force to counter threats including terrorism, local and regional conflicts. Uzbekistan did not sign the document, citing "some reservations", Medvedev said.
ERSTWHILE ALLIES
The CSTO controls a key land route from Europe to Afghanistan and is sometimes billed as a counterweight to NATO.
Belarus's Foreign Ministry sent a note to the CSTO's secretariat saying the document signed on Sunday without its participation was illegitimate.
Russia froze a $500-million loan to Belarus last month. Lukashenko said Moscow refused the money because he turned down Kremlin demands to recognise the breakaway Georgian regions of Abkhazia and South Ossetia as independent states.
On June 6, Russia banned imports of dairy products from Belarus, cutting off a major source of exports for the indebted state, still run as a largely Soviet-style command economy.
Slav neighbours Russia and Belarus have pledged to build a "union state" and have declared a passport and customs union, but progress towards political union has long been stalled.
Belarus's border guard chief Ivan Bondarenko said on Sunday Minsk was ready to re-introduce controls on the Russian border.
Lukashenko has long been accused by the West of repressing dissent, muzzling the media and rigging elections. But as relations with Moscow soured, he has tried to improve relations with the West.
Russia, the world's No.2 oil exporter, has been trying to use the global crisis to tighten its grip on poorer neighbours, largely dependent on trade with Russia, analysts say.