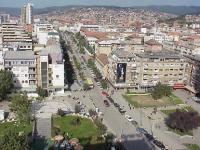 The Serbian Security and Information Agency, BIA, are denying media reports made last Friday in Pristina that three of their agents had been arrested in Caglavica, Kosovo.
Jovan Stojic, chief of the Agency director's office told Beta news agency at the weekend that "The Security and Information Agency has no agents in Kosovo, and therefore they could not have been arrested."
Pristina Ekspres, on Friday June 12, cited police sources in their claims that police in Kosovo had arrested three Serbs, two of whom were suspected members of the Serbian Security and Information Agency.
On Sunday June 14, the newspaper stated that Kosovo's public prosecutor now had solid evidence against the three arrested Serbs. The evidence included witnesses, electronic data and communication records, and many other documents.
Arber Beka, Kosovo police spokesman, said that the suspects were caught offering large sums of money for false testimonies "against the former KLA" to locals who were willing to give evidence on the alleged trading of organs harvested from captive Serbs in Kosovo.
"The three men who were arrested, along with one individual who is at large, acted in unison, offering sums of up to EUR 100,000 to anyone willing to give such statements, while they also promised things like apartments, employment, cars and other things," Beka told Ekspres on Friday.
According to him, the suspects "also promised permanent residence in Serbia and permanent pensions."
He also said that up to that point, they could still not confirm whether two of the arrested were members of the Security and Information Agency as reported.
Igor Josinac, from Strbac, who was a member of Kosovo police (KPS) up until 2007, and Serbian nationals Milutin Radanovic and Predrag Zeljkovic, were arrested. Their vehicle bearing Novi Sad license plates was also confiscated.
All three have denied any wrongdoing and have dismissed the prosecution's claims of bribery.
Josinac, who is a Kosovo resident, said that he did not know the two other men and did not conceive any plot, but Kosovo Albanian authorities still took them into custody for 30 days.
Late Friday, Serbian Interior Minister, Ivica Dacic rejected the claims of espionage.
"It is absolutely not true that those arrested are members of our security structures. Since 1999, based on the Kumanovo Agreement, MUP, and by that fact the security agencies and the military, do not have a single member in Kosovo and Metohija," Dacic told reporters.
"This is about a politically motivated campaign, that is supposed to 'rival' what has been talked about many times, not only by the Serb War Crimes Prosecution, but also EULEX, and has even been mentioned in The Hague, and that trafficking of human organs taken from Serbs in Kosovo and Metohija" he continued.
War Crimes Prosecution spokesman, Bruno Vekaric, also made a public rebuttal claiming these arrests were an attempt to "discredit the investigation into the trafficking of human organs taken from Serbs in Kosovo during the war."
The arrests are likely to fuel tensions over an investigation into human organ trafficking attempting to determine the fate of hundreds of Kosovo Serbs who disappeared in 1999.
They are believed to have been kidnapped by ethnic Albanians, taken across the border to northern Albania, where their vital organs were extracted then sold on the black market.