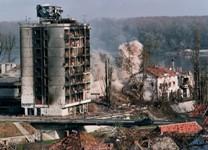 Serbia's war Crimes Court on Tuesday sentenced a Croatian Serb to 20 years in prison for killing Croat prisoners of war in the eastern Croatian city of Vukovar in 1991.
Damir Sireta, alias Sico, was indicted for taking part in the killing of some 200 Croatian soldiers and civilians at the Ovcara farm outside of Vukovar.
In 1991, when war broke in Croatia, Sireta was a member of Vukovar's Territorial Defense, a formation within the former Yugoslav People's Army, JNA. Sireta was indicted for being a member of the platoon that had executed Croat prisoners at Ovcara in late November 1991.
After a three-month siege, Serbian forces took control of the devastated city and rounded up victims from a hospital, taking to them to a nearby pig farm where they were tortured, killed and buried in a mass grave.
According to the indictment, Serbian paramilitary forces tortured the men before separating them into groups of seven or eight, killing them and dumping their bodies into a mass grave. Those showing signs of life were shot in the head.
Even though during the trial Sireta denied being at the farm, witnesses had confirmed that he was at the scene of the crime when the prisoners were killed.
Croatian-born Sireta, whose trial started in December last year, was arrested in Norway in December 2006 and extradited to Serbia in May 2008. Croatia also demanded his extradition from Norway, as he was sentenced there to 12 years in absentia for the same crimes.
In March this year, the Belgrade court sentenced seven Serbian soldiers to 20 years in prison each for the Ovcara farm war crimes and another six men were sentenced to jail terms ranging from five to 15 years. Sireta was also part of this case, but he was tried separately due to his pending deportation from Norway.
Former JNA Generals Mile Mrksic and Veselin Sljivancanin were given 20 and 17 years in prison, respectively, by the Hague-based International Criminal Tribunal for the former Yugoslavia, ICTY, in 2007.