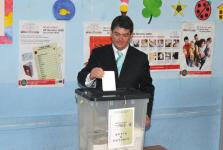 At the George W. Bush café in the Albanian town of Fushe Kruja, clients were glued to the television screen on Sunday morning as they watched Albania's parliamentary election unfold.
Roughly 3.1 million Albanians are eligible to vote for the country's next parliament, in one of the most scrutinised elections in its recent history. A peaceful and fair poll is seen as key for Albania's hopes for fast-track membership into the European Union. 
"I will head to the polling booth as soon I get done with serving the first shift," says owner Festim Cela, as the bar buzzes with electoral chatter between supporters of Prime Minister Sali Berisha and those who favour his Socialist rival, Tirana mayor Edi Rama.
Sipping espresso and drinking the local brandy, a group of young bankers, sat in a corner of the bar, argued among each-other about the strengths and the weaknesses of the two leaders.
"Until now it looks pretty quiet, but normally all the trouble comes in the afternoon," says 33-year-old Ertion Muca, a Socialist supporter, pointing at the election news on television. "I voted for change," Muca added, echoing the Socialist campaign slogan.
However, his friends had mixed opinions about Edi Rama, and questioned his support of the Socialist Party.
"We are Democratic Party supporters, and we expect Berisha to win," said one of them, who declined to give his name. "Rama and his crew are nothing less than former communists," he added.
Below the television, showing pictures of Albanian Prime Minister Sali Berisha voting in a Tirana polling booth, is the table where Bush sat to discuss a US-funded micro-loan programme with a baker, a barber, a tailor and a shepherd, when he visited Fushe-Kruje on June 10, 2007, receiving a rock star welcome.
Albania's previous elections have been marred by fraud and violence, as the country has struggled with a difficult and often tumultuous transition to democracy since the collapse of the communist regime in 1991.
Now newly promoted to NATO membership and having filed for EU candidate status, Albania's democratic credentials will be under close scrutiny during the elections.
The former US president has invested a great deal of diplomatic credit to secure Albania's accession to NATO in April, and if fraud is once again uncovered in the electoral process, as it has been in every election since the end of communism, Washington will be deeply embarrassed.
"This is a beautiful day for democracy and people should vote without fear," John L Wither, US ambassador in Tirana, who has registered himself and his staff as poll observers, said after a meeting with President Barmir Topi and the head of the OSCE mission in Tirana, Robert Bosch. "Every political party should meet [international] standards and obey the law," added the US envoy.
Berisha, who has promised to do his utmost to secure a free and fair vote, thanked the army of international observers which has converged on the country to monitor the poll.
"I want to greet all the international observers who have come to monitor this poll," said Berisha after casting his ballot in Tirana. "I believe that in these free and fair elections every Albanian will be a winner," he added.
"I call upon all people to vote peacefully and quietly because the whole world is watching us, and the international community deserves a show of maturity and of our will to become part of the European family," said opposition leader Edi Rama, outside a polling station where he had cast his ballot.
Rama's and Berisha's messages were echoed by President Bamir Topi, who spoke after voting with his wife Teuta and their two daughters.
"This is a very meaningful moment and these elections are very important in order to clear Albania's way to the EU," the president said.
Despite the positive words, accusations have already started flying between the Socialist opposition and Berisha's Democratic Party over pen cameras brought into polling stations by Socialist commissioners to monitor the election process.
The Central Electoral Commission, in a meeting at noon, declared the pen cameras as illegal inside a voting station, a decision contested by opposition representatives.
The Democratic Party campaign spokesperson, Majlinda Bregu, called them an attempt to spy on the Albanian people, while the opposition replied that they were trying to avert electoral fraud.
Minor technical and political problems among commissioners from the opposition and the ruling majority have been reported throughout the country, with some stations temporarily closed, but there is no evidence or sign of electoral fraud.
The polls will be open until 7pm, while official early results are not expected to be in until Monday.