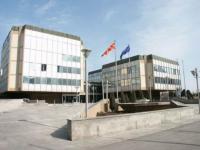 Macedonian opposition parties said the resignation of Deputy Prime Minister Ivica Bocevski was a sign of the government's inability to make progress with its European Union accession bid.
Bocevski, in charge of EU relations, revealed no motives for his surprise move in his resignation letter sent on Tuesday to the Prime Minister Nikola Grievski.
"Does this mean that the person who bears the greatest responsibility for the country's European integration is acknowledging the defeat of Gruevski's and [his] VMRO DPMNE's policy in this field?" the coordinator of the opposition Social Democrats' parliamentary group, Cvetanka Ivanova, asked on Tuesday.
The minister resigned only months before this autumn's European Commission report on Macedonia. Skopje is hoping it will contain a recommendation for a start to EU accession talks.
Macedonia has been an EU candidate country since 2005. However Brussels has cited insufficient reforms as a reason for not offering a firm date to start accession talks. "My contribution to the current government is fully exhausted," Bocevski wrote in his resignation letter.
Local media speculated that Bocevski resigned after his relations cooled with Prime Minister Gruevski. The local Alfa TV station said on Tuesday that Bocevski had been absent from the last three government sessions.
Bocevski was seen earlier as Gruevski's trusted ally. A government spokesman since 2006, after Gruevski's centre-right VMRO DPMNE won a new mandate in the June 2008 general elections, Bocevski took over as Deputy Prime Minister in charge of EU integration.
The Vreme daily on Wednesday said Bocevski's departure might herald a small-scale government reconstruction this summer or autumn.
The daily newspaper said the Prime Minister was not satisfied with the work of the Justice Minster, Mihajlo Manevski, believing he had been slow in implementing judicial reforms seen as crucial for the country's EU bid.
VMRO DPMNE yesterday refused to comment on a possible cabinet reshuffle.
The names of Education Minister, Pero Stojanovski, Finance Minister Fatmir Besimi, Economy Minister, Trajko Slaveski and Minister for Local Governance, Musa Xhaferi have circulated in public as possible candidates to replace Bocevski.