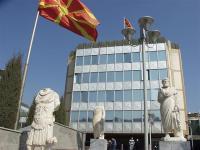 Vasko Naumovski,professor at the International Law Department with the New York University, is likely to take over the post of Deputy Prime Minister in charge of Macedonia's EU integration local media cite unnamed sources from the ruling party as saying.
Naumovski will be officially appointed next week, sources from the main ruling VMRO DPMNE party told local Kanal 5 TV. Neither the party nor the government confirmed the claims.
Meanwhile, faced with silence from officials the controversy about the sudden resignation of the outgoing Deputy PM, Ivica Bocevski, seen as Prime Minister's Nikola Gruevski's staunchest ally, brews on.
The main opposition, the Social Democrats on Thursday shed new light on the possible motives behind Bocevski's resignation. They raised suspicion that Bocevski had secret meetings with Greek officials in the past month over the "name" row between two countries. They hinted the possibility that the Prime Minister was not informed about them.
"Is it true that Deputy Prime Minister Bocevski met Greek deputy Foreign Minister in secret in December 2008 in Brussel?" the Social democrats Vice President Gordan Georgiev asked media on Thursday.
Athens and Skopje are engulfed in a long-standing row over the use of Macedonia's official name. Relations soured last year when Greece blocked Macedonia's accession in to NATO pending a solution to the dispute. Both countries are expecting a visit from the United Nations mediator, Matthew Nimetz, in the coming days.
Georgiev also revealed that Bocevski might have had two more secret meetings, shortly after the first, with the Greek Foreign Affairs State Secretary and in June with high representatives of the Greek Embassy in Washington.
Local Utrinski Vesnik daily on Friday cites unnamed sources as saying that the first crack between the Prime Minister and his deputy appeared when Bocevski managed to persuade Greek officials not to block their funds intended for the completion of Macedonia's main highway as part of the pan-European corridor 10 despite the ongoing name row.
His effort was undermined shortly after when the government in Skopje renamed the road after the ancient warrior king Alexander the Great whose origin is also disputed between Athens and Skopje. Shortly after Athens said it will not give the money.
Neither of these speculations has been commented by state officials. VMRO DPMNE only said it will "respect Bocevski's personal reasons".
Brussels urged Skopje to fill the vacant Minister's post as soon as possible in order for the country's European Union membership bid not to be held back. Bocevski's resignation comes just months before October's European Commission progress report on the country. Skopje hopes to see in it a recommendation for start of its EU accession talks.
Macedonia gained the status of EU candidate country in 2005. The EC has so far cited insufficient reforms in the country as the reason for the slow pace of Macedonia's membership bid.