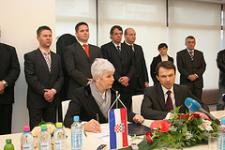 After an all day session, voting 83 in favor and 45 against, Croatian MPs approved the new government proposed by prime minister-designate Jadranka Kosor just after midnight last night.
The move to form a new government comes after the suprise resignation of Prime Minister Ivo Sanader last week. Opposition MPs who voted against Kosor's new government proposal demanded new elections, calling Sanader a coward and criticizing him for abandoning his post due to his failure to tackle the economic crisis and the country's slow EU integration. 
Kosor, who had been deputy prime minister since 2003, has been mandated by President Stjepan Mesic to form a new coalition government. She will be the first woman to serve as prime minister in Croatia. "Jadranka Kosor has shown evidence that states that she has the needed majority support in the current assembly," Mesic said in a statement.
The Kosor cabinet introduced a new ministry, the ministry for public services and administration, while keeping most of Sanader's ministers in place. Kosor is also the new president of the Croatian Democratic Union, HDZ, again replacing Sanader, as of a vote on July 4 in which 9,000 party officials opted for her during a general assembly session. Mesic said that he expected the new government to continue to lead very clear and decisive pro-European policies.
In late June, the EU halted Croatia's accession talks due to the deadlock between Croatia and EU member Slovenia in resolving ongoing border disputes left over from the breakup of Yugoslavia. Kosor voiced hope that the issue would be resolved by the end of the year.
Among her government's priorities, Kosor stressed finding ways out of the economic crisis, strengthening the economy, continuing all reforms and the fight against corruption. She said her first task would be to rebalance the budget this month.
"Our key task will be to fight this economic downturn and preserve the macroeconomic stability to make the economic recovery possible," Kosor told MP's. During the war in Croatia, Kosor worked as a radio-journalist and her show covered issues such as refugee problems and disabled war veterans. Kosor has published four books, two of poetry and two related to Croatian independence.