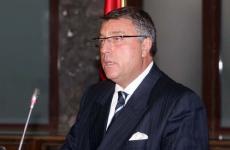 Albanian economic growth this year will be minimal, owing to the effects of the global economic downturn, the Central Bank governor, Ardian Fullani, has said.
Fullani said confidence in the Albanian banking sector had revived after the first aftershocks of the crises in global financial markets.
However, the government needs to exercise better oversight of public spending in order to boost investors' confidence in the economy. 
"The financial sector will continue to suffer from the problems created in 2008, but it is still healthy and well capitalized," said Fullani.
"We should exercise more oversight over the budget deficit because this is the way to increase confidence in our fiscal policy and create stability," he added.
Recently, economic problems have been overshadowed by the general election campaign preceding the June 28 poll.
"The Albanian economy is facing difficulties and we note a fall in remittances and unstable export levels, investments and sales", Fullani continued.
On Wednesday, the Prime Minister Sali Berisha urged ministers to "save money in a time of global crisis", the first implicit acceptance by the cabinet that the country is facing trouble, something economist have been warning about for months.
Revenues have been lower than expected, with only small growth compared to 2008, while the budget deficit is rising fast.
At end of May, the government reported lower revenues from VAT, which is considered an important indicator of the level of domestic demand, and also from business profit taxes.
Exports fell by 25 per cent during the same period while the foreign trade deficit has widened.
The banking system has seen an explosion of bad loans and is facing financial losses for the first time since 1999.
However, the government continues to base its spending on projections of 4.5 per cent growth in GDP in 2009, even though international organisations, such as the IMF, evaluate GDP growth will be a mere 0.4 per cent.