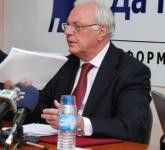 The unresolved case of Justice Minister Mihajlo Manevski, who had been illegally receiving both a minister's salary and a state pension for several months, has been chosen by Macedonian media editors as the murkiest corruption-related case in June.
The case garnered 17 out of 19 votes from Macedonia's top media chief editors in the monthly opinion poll conducted by local Makfax news agency and the NGO Transparency – Zero Corruption.
Vlado Buckovski, the legislator from the opposition Social Democrats, initially came out with a document claiming to prove that Manevski had duped the state. He accused the government of attempting to cover the scandal "by retroactive withdrawal of the justice minister's name from the government payroll", after he had been receiving both salary and pension checks for four months this year.
Manevski was quick to respond with a document from the state pension fund in which the institution admits it made a mistake by not cutting his pension on time, although he had requested it. The government backed him up, saying mistakes of this sort were not uncommon in the fund.
Despite being in the public spotlight for the past weeks, and being called to resign by Macedonia's Helsinki Committee for Human Rights, Manevski survived the Government reshuffle on Friday. Prime Minister Nikola Gruevski changed other key ministers but spared him.
On the other hand, the improved efficiency of the judiciary by resolving a record high number of court cases in the period September 2008-March 2009, about 4.600 of them, was ranked first at the positive events list for this month.