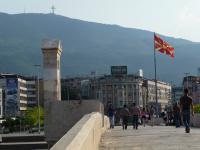 According to the latest survey done by the US-based International Republican Institute, IRI, Macedonian citizens, on average, give their country 6.2 years to enter the European Union.
Therefore, they expect Macedonia to enter the EU sometime in 2015.Public support for Macedonia's NATO entrance remains high at around 93 percent, the survey, conducted in late June, shows.
The overall rating of the main political parties is still consistent with past surveys. The ruling centre-right VMRO-DPMNE has a rating of 31 percent and that of their ethnic Albanian coalition partner, the Democratic Union for Integration, DUI, stands at 12 percent.
The main opposition, the Social Democrats also polled 12 percent, with the opposition ethnic Albanian party, the New Democracy, ND, trailing with 3 percent.
A total of 16 percent of respondents were undecided.
Macedonia's most trusted politician remains VMRO-DPMNE head, Prime Minister Nikola Gruevski, with 24 percent support. His nearest challenger is the leader of the Social Democrats, Branko Crvenkovski, with 10 percent, while DUI leader Ali Ahmeti enjoyed the backing of 8 percent of those polled.