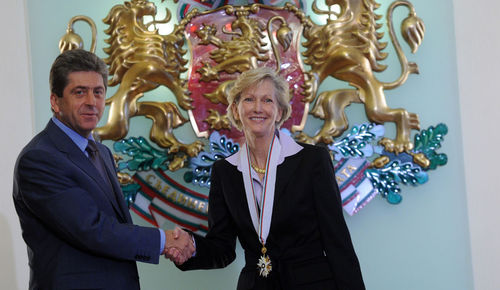 US president Barack Obama is to name Marc S Ellenbogen, an entrepreneur and philanthropist, as ambassador in Sofia to replace Nancy McEldowney, a Bulgarian media report said on July 24 2009.
Ellenbogen (47) chairs the board of directors of the Global Panel Foundation, Standart said.The paper quoted diplomatic sources. There was no announcement on the White House website or that of the state department.
McEldowney, who is moving to a senior state department post in Washington, met Bulgarian President Georgi Purvanov on July 23 when he presented her with the country's highest honour, the Stara Planina first class.
Purvanov said that over the 106 years of diplomatic relations between Bulgaria and the US, relations were at an all-time high, "not simply because we are strategic partners, allies, but because we have dialogue such as we have never had before".
McEldowney handed Purvanov a letter from Obama congratulating the country on the fifth anniversary of Bulgaria's accession to Nato, Bulgarian news agency BTA said.
The letter from Obama said that the US was "proud to stand shoulder to shoulder with Bulgaria as allies and friends, building on Nato's achievements in promoting the security and prosperity of the two countries".
Marking the 10th anniversary of Nato enlargement, the US gave credit to the leaderships of the newest members of the alliance and to the citizens who supported their efforts.
Bulgaria's contribution to Nato operations, as well as its commitment to the underlying values of the alliance, were a testament to the ongoing transformation of Nato and proof of the lasting benefits of its enlargement, Obama said.