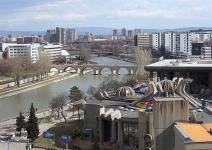 Macedonia will follow directions given by the European Commission, EC, in deciding whether to establish a visa regime for citizens of Kosovo and Albania. According to Macedonia's Foreign Ministry, this issue has yet to be discussed. Until now, citizens of Albania and Kosovo have travelled freely into Macedonia.
"It is early to discuss this issue. Until the final decision for visa liberalisation [is made], we will be in constant contact with the EC," ministry Spokesperson Petar Culev said. 
Culev said that the Macedonian government will not act unilaterally in determining future policy on the issue. "This will depend on recommendations given by the EU. If they require us to establish a visa regime with citizens of Albania and Kosovo, then we will respect this decision," he said.
However an expert on EU integration, Mersel Bilalli, warned that Macedonia should not take such a decision. "Nothing should change as far as the free movement of citizens of Albania and Kosovo is concerned. But if they want to travel to other European countries, they should possess a valid visa for the country they are visiting," Bilalli told daily Koha Ditore.
This issue was brought onto the table by the recent EC proposal that Macedonia, Serbia and Montenegro be included on the so-called "white Schengen list".
Citizens of these countries are expected to be able to travel without visas to and within the EU area from January 1, 2010.