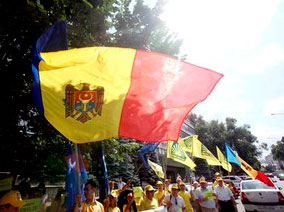 CHISINAU, Moldova
Eleven Georgian election observers have been refused entry into Moldova ahead of parliamentary elections because they are considered "dangerous," authorities said Tuesday.
Moldovans go to the polls Wednesday three months after protesters stormed the capital accusing the communist-led government of rigging nationwide elections.
The Georgians, who were expecting to be accredited as observers, were denied entry as they arrived Monday in this former Soviet republic. Authorities and a lawyer for the Georgians, Constantin Tanase, said they work for the European Network of Election Monitoring Organizations, a group of non-governmental organizations from the region. 
Moldova's Security and Intelligence Service said the Georgians were "dangerous" for Moldova. It did not elaborate.
Authorities confiscated their passports Monday and they were being held by authorities at the airport in the capital Chisinau. No further information about them was available, Tanase said.
The Central Election Committee said it had refused to accredit a total of 87 observers from the network which monitors elections in the former Soviet Union and the Balkans. It accredited 53 monitors from the group.
Moldova's parliamentary elections on April 5 led to violent protests in which at least three died after the opposition said the election was rigged. Parliament was dissolved in June after it failed twice to elect a president.
More than 3,000 observers are monitoring Wednesday's elections.